CORE DRYING PRESS (VENEER CORE DRYER)


Core Drying Press is a hydraulic hot press which is also known as different names like, Veneer Core Dryer, Core Veneer Dryer, Veneer Dryer, Veneer Drying Hydraulic Hot Press, Core Dryer, Core Drying Hydraulic Press, Veneer Dryer, Veneer Core Drying Press Machine, Veneer Core Drying Hydraulic Hot Press or Veneer Dryer Machine, Core Dryer Press Machine, Veneer drying hot press, etc.
Core drying press is used for drying the veneer core. The application of veneer core drying press is in various industries like block board and veneer making. Core drying press is also popular as press type veneer dryer machine or veneer dryer.
Abster is a leading manufacturers, suppliers & exporters of hydraulic press type veneer dryer machine/ core veneer drying machine based at Ahmedabad, Gujarat, India.
FEATURES OF CORE DRYING PRESS
Uniformly press & drying the core veneer
Heavy welded frame / channel and 'I' beam construction
International standards hydraulic & electrical components
PLC/ PB controller for simultaneous and continuous pressure on core veneers
Fluid seals are used in the cylinders to avoid oil linking
Machine openings multi daylights (platens)
Vibration less & rigid construction
Steam / Thermal fluid heating system
We manufacture Veneer Core Dryer machine in following different capacity to best fit plywood manufacturing companies in India.
| | | | | |
| --- | --- | --- | --- | --- |
| PRODUCT (MM) | CAPACITY (TONS) | PLATEN (MM) | SPECIFIC PRESSURE | NO. OF DAYLIGHT |
| 1400 X 1270 | 40 | 1450 X 1310 | 2.25 KGS / CM2 | 10-15 DAYLIGHT |
glue blender machine for particle board production line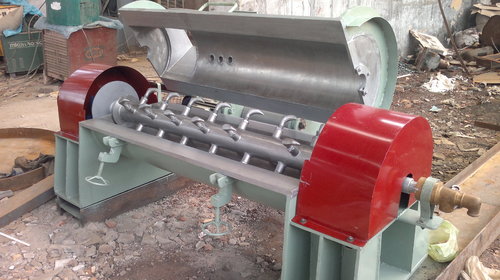 Glue blender machine Application
Glue blender machine for particle board production line
Particleboard (PB) based on wood as raw materials, shavings, glue, auxiliary equipment, hot pressed density 550-750kg / M 3 man-made sheet. It has a fine smooth surface structure of the core layer gradient, and has good heat insulation, sound insulation and good machining properties, is widely used in manufacturing furniture, high-end cabinets, speakers, and other interior construction and transport. We produce an annual output of 15000-100000 cubic meters of particle board equipment, in a dry, auxiliary equipment, hot press has done a great section in the technical modifications, reduce investment, improve the quality of the products
Particle board glue blender
Particle board glue blender